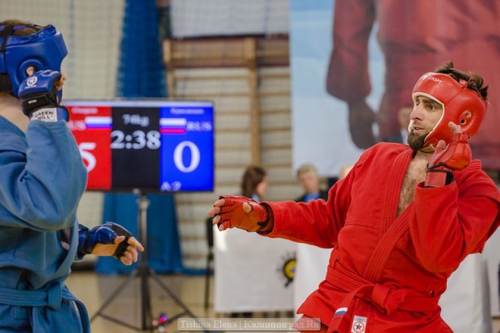 Kaliningrad saw the international sambo tournament in memory of Anatoly Khlopetsky, an Honored Coach of Russia and the founder of the Kaliningrad Oblast sambo school. The Small Arena "Yantarny" gathered 103 athletes from 5 counties.
Anatoly Khlopetsky had made a considerable contribution towards the promotion of sambo in Kaliningrad Oblast. He was the one who managed to organized the world sambo championship, where Vitaly Mikheev became the winner. It is interesting that today Vitaly is Deputy Director of the regional lyceum of the Olympic Reserve.
During 7 hours on 2 mats the best athletes form Belarus, Poland, Latvia and Germany fought for the medals.
"This is a whole system of instilling and following the fundamental human values, such as mutual support, coming to your neighbor's aid, persistent self-improvement, seeking the ways to win. These days, I'm happy to witness that the interest in this sport is waxing again. Thus, the national 'Sambo to Schools' program is being successfully implemented in Kaliningrad Oblast, quite remarkably, led personally by the Oblast governor, which gives assurance in the sound future of our children." claimed Roman Balashov, the Deputy Presidential Plenipotentiary Envoy to the Northwestern Federal District.