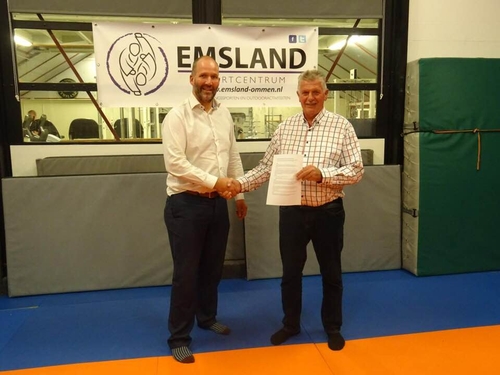 The Dutch Sambo Federation (SBN) joined the Royal Dutch Power Sport and Fitness Federation (KNKF). This organization is recognized by the National Olympic Сommittee and unites several sports as wrestling, sambo, powerlifting, paralympic powerlifting, kettlebell lifting and calisthenics.
The collaboration agreement has been signed both literally and figuratively on the wrestling mat in Ommen by Paul Lengkeek, chairman of the KNKF, and Hendrik Jan Ningbers, chairman of the SBN.
The Dutch Sambo Federation, being the part of recognized organization, is counting for the recognition of sambo sport from the National Olympic Committee.
"Undoubtedly, this gives a new impetus to the development of the Sambo Federation", says Hendrik Jan Ningbers. By working together with KNKF the Dutch Sambo Federation has taken the next great step in promoting and emphasizing Sambo in the Netherlands and let it grow. The intention is therefore to combine forces on several aspects and to share each other's experiences and knowledge. The joining of the Royal Dutch Power Sport and Fitness Federation gives more opportunities: recreational, organisational skills and facilities or top sport with participation of the (Dutch) NOC*NSF. Once again, we like to thank Paul Langkeek and the Royal Dutch Power Sport and Fitness Federation and all those who have put in their time and energy for this collaboration . With this result we also like to emphasize our mission — Sambo for everyone ... 4U2! With sporty greetings Dutch Sambo Federation!