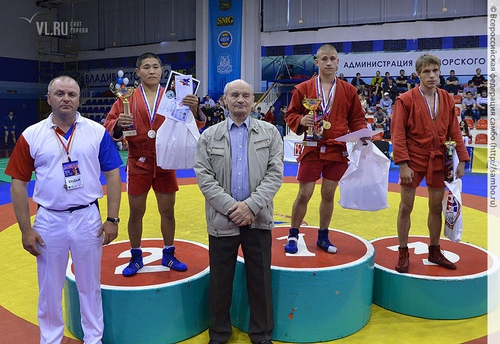 12th International sambo tournament among men "Yu.Potapov Memorial" was held in Vladivostok Sports Complex "Olympiets" on saturday, june 17th.

Over 100 sportsmen from Russian Federation regions, Ukraine, Belarus, Kazakhstan, Tadjikistan, Uzbekistan, Mongolia took part in tournament.

Sambo wrestlers from Primorskiy Region won three first places, four second and one third place on home mat. Heavyweight wrestlers didn't leave the chances for the sportsmen from other teams and regions, winning all prize places in that weight category.


Results of the XII International tournament "Yu.Potapov Memorial"

Men

Weight category up to 52 kg
1. Aleksandr MELNIKOV (RUS, Primorskiy Region)
2. Sergey IVANOV (RUS, Chuvashia Republic)
3. Edgard BORISOV (RUS, Khabarovskiy Region)



Weight category up to 57 kg
1. Vasiliy KARAULOV (RUS, Krasnodarskiy Region)
2. Valeriy SORONOKOV (RUS, Sverdlovskiy Region)
3. Vladimir SHUTIKOV (RUS, Amurskiy Region)


Weight category up to 62 kg
1. Mikhail TSYGANOK (RUS, Khabarovskiy Region)

2. Sardor YUNUSOV (UZB)

3. Darkhan ALIMBETOV (RUS, Khabarovskiy Region)



Weight category up to 68 kg
1. Vladimir BALYKOV (RUS, Penzenskiy Region)

2. Sergey ZAVALEY (RUS, Primorskiy Region)

3. Manuk ADZHEMYAN (RUS, Amurskiy Region)



Weight category up to 74 kg
1. Aleksandr DALKO (RUS, Primorskiy Region)

2. Anton AMBAYEV (RUS, Amurskiy Region)

3. Nikolay FEDYAEV (RUS, Moscow)



Weight category up to 82 kg
1. Georgiy LEBEDEV (RUS, Penzenskiy Region)

2. Semen GERILOVICH (RUS, Primorskiy Region)

3. Vasiliy TROFIMOVICH (RUS, Khabarovskiy Region)



Weight category up to 90 kg
1. Aleksey KHARITONOV (RUS, Penzenskiy Region)

2. Oleg SPASENNIKOV (RUS, Primorskiy Region)

3. Dmitriy IVANOV (RUS, Primorskiy Region)



Weight category up to 100 kg
1. Alsim CHERNOSKULOV (RUS, Sverdlovskiy Region)

2. Aleksey KHARCHUK (RUS, Khabarovskiy Region)

3. Dmitriy ELISEYEV (RUS, Saint-Petersburg)



Weight category over 100 kg
1. Viktor STOROZHENKO (RUS, Primorskiy Region)

2. Aleksey USOV (RUS, Primorskiy Region)

3. Dmitriy DOMNIN (RUS, Primorskiy Region)


Source: (www.sambo.ru)