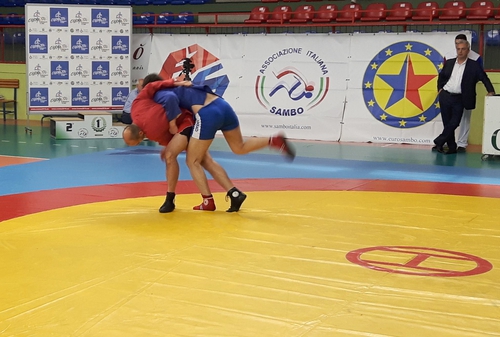 On June 19 in Crema was held a national Italian Sambo Championship. At the same time there was held a great contest "Crema as european city of sport 2016".
Competitions were visited by the city mayor, MS Bonaldi and the delegate of the regional Olympic Committee Mr. Gerevini.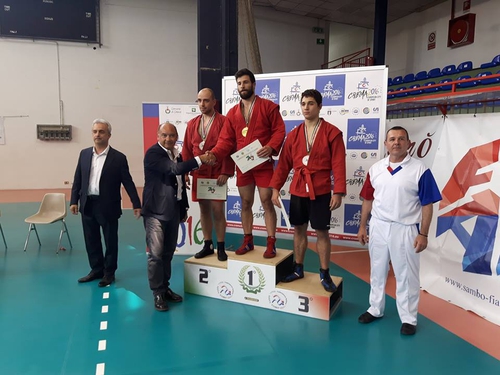 The championship was participated by 63 athletes from 15 clubs.
Results:
Kg.62 M

1° SATIN Michael (the Italian Association of Sambo)

2° TICCHIARELLI Manuel (Academy of Sambo Rome)

3° BONINI Manuel (Ryoko Pinasso)

Kg.68 M

1° GALBIATI Mattia (Isao-Okano 97)

2° PASSALACQUA John (City Gym Ragusa)

3° DENT Maximiliano (Sambo Invicta)

Kg.74 M

1° LUSSIGNOLI Athos (Isao-Okano 97)

2° LA ROSA Stefano (City Gym Ragusa)

3° THE PINK Angel Luca (City Gym Ragusa)

Kg.82 M

1° MICELI Alessio (Italian Association of Sambo)

2° MARAZZI Giacomo (Lombardy)

3° CIOCIANO Thomas (Academy of Sambo Rome)

Kg.90 M

1° GIGLIOTTI Edward (Gigliotti Team Nuoro)

2° BINELLI, Alessandro (Italian Association of Sambo)

3° CONVERTINO Antonio (Wrestlers Milan)

Kg.+90 M

1° MATIDDI Daniel (the Academy Sambo Rome)

2° FERRETTI Marco (Italian Association of Sambo)

3° POLVERINI Jacopo (Moving Club Crema)

Kg.56 F

1° MERELLI Elen (Ryoko Pinasso)

2° CIMINO, Elisa (Lombardia)

3rd TORRES, Patricia (Ryoko Pinasso)

Kg.+56 F

1° RAIMONDI, Valeria (Isao-Okano 97)

2° the KING Agnese (Italian Association of Sambo)

3° MARRELLO Phebe Marie (Ryoko Pinasso)