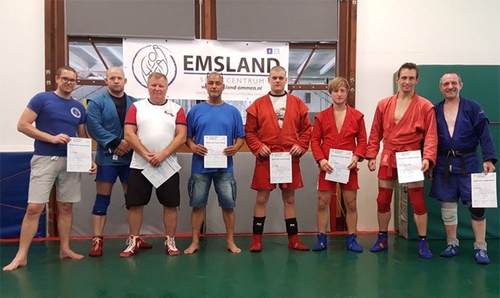 Dutch sambo federation handed out instructor certificates. Eight specialists, who contributed to SAMBO development in the Netherlands, acquired documents from the head of technical commission Bart Heerikhuizen. Such procedure was held in Dutch SAMBO for the first time, which is why the Dutch Eight went down in history.
Nico Herbert, Frank Ningbers, Johan Jaspers Faaijer, Carel Winter, Andery Homeylev, Jarik Hallink, Pim Graafland and Henk Graafland got instructor's certificates. According to national federation, these people constantly work on Dutch SAMBO development and popularization: they have been members of the federation since its foundation, they've been training sambo for a several years, and they demonstrate great sport results taking part in international tournaments of various levels.
"We all hope that these instructors will become a keystone for SAMBO development in the Netherlands. Also it's worth mentioning that besides these 8 people Maykel Claassen got his license a few days later. He became the first who successfully completed SAMBO training program for referees and passed the exam" — Bart Heerikhuizen noted.