This years 4th President Cup for Sambo was held at SportsDock University of London Docklands Campus London on September 30th 2017. This event is to promote Sambo in Great Britain and features Sport Sambo and Combat Sambo and is organised by the Commonwealth Sambo Association supported by the British Sombo Federation.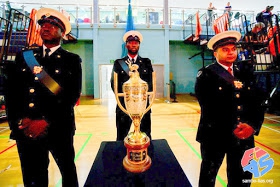 Sport Sambo is a Team event with the following Countries participating Great Britain, England, Scotland, Cyprus, Holland, USA, Russia, Mexico and Ghana the Combat Sambo was an individual event with fighters coming from several countries.
The organisers ask the British Sombo Federation to present teams for GB, England and Scotland this did cause us problem because we had to divide our British Players across 3 teams so much so we had to chose Eastern Europeans who were members of BSF affiliated Associations to compete. Because of this we decided that to call them National Teams would be wrong so the teams competed as British Sombo Federation, English Sombo Federation and Scottish Sombo Federation. Team Coaches were BSF Player/ Manager Ryan Cottom, ESF John Clarke, SSF Robin Hyslop, and Combat Sambo Matt Clempner Junior.
The Event started on the Friday where the various countries representatives were invited to a reception at the Russian Embassy speeches were given by Vasily Shestakov FIAS President, Russian Ambassador, Michael Wynn Parker Chairman Commonwealth Sambo Federation and Martin Clarke President British Sombo Federation. The Russian Embassy is a beautiful place and many people from the Business world were present. Martin's Speech was about how Sambo has brought people from all Nations together, he moved on to emphasise the respect players have for each other. This he said was highlighted when a Sambo match starts the contestants shake hands and when it is finished they shake hands a sign of mutual respect. He moved on to say that Sambo itself was very easy to follow and explained in just a few minutes the rules and said watch a Sambo event for 10 minutes and you be able to follow it and because Sambo did not have complicated rules the general public can soon get involved
Here is Martin's Speech
http://martinclarke.blogspot.co.uk/2017/10/martin-clarke-russian-embassy.html
Saturday was the big day and the Venue was quite impressive and thanks must go to Keith Costa and the British Sombo Federation team for transporting mats and rigging as well as de rigging. Andrew Moshanov the over all organiser arranged special lighting to enhance the venue, which made the event even more spectacular. The start was a march on of all Athletes in their various countries and then came various speeches by various Dignitaries including Her Royal Highness Princess Katarina. Special Guest of the day was Brian Jacks 10th Dan GB's most famous Judoka and winner of the Superstars for 3 consecutive years.
In an interview Brian said he preferred the Rules of Sambo to the modern day Judo and went as far as to say if he started Judo today he doubt if he would continue in the Sport, he likened Sambo more to the Judo of the 1960's and 1970's . Brian now lives in Thailand and in GB to promote his book.
Moving on the competition it would be impossible to mention every fighter but I have elected just two. First was 62 kg. KIERON BOURNE from Trinidad who beat the Russian in the Combat Sambo Final a remarkable performance and maybe we will see him in November in Sochi Russia as a new World Champion. Next was Tom Nichols fighting for the BSF in the Sport Sambo Team event in the final he beat ROMAN YATSENKO u9Ok Russia that's something that does not happen very often.
The British Sombo Federation had a hard pool with Holland USA Ghana. First shock of the day was Team USA beating Holland who was favourites to reach the final. This left GB BSF having to compete against USA now the favourites to win Silver and Ghana this country has a strong heritage in both Judo and Sambo. BSF GB beat both teams by a slim margin just 1 match in it.
So the surprise Finalist with Russia was GB BSF it is very hard to beat the Russian team and GB BSF lost 6-1 but all put up a great match.
The whole day was full of excitement and proved very successful with the Large audience every one is looking forward to next Year
SO WHAT OF THE FUTURE
Well the Presidents Cup has travelled around GB but now in the opinion of the BSF and many others it is time to have a permanent venue for the Cup and the Docklands venue was ideal it is easy to reach for locals and with main Aeroport's near by it is easy for other countries. The President Cup should become a major sporting event in the British Sporting Calendar like the FA Cup, Grand National etc. have the event in one venue at the same time every year would encourage spectators and sponsors plus the following day we could have a UK Open with all the Samboists competing in an individual event. The BSF have several events planned for 2018 Colin Carrott will be running the British Sport Sambo Open in Folkestone England, Robin Hyslop will be organising the Scottish Open and British Combat Sambo in Dumfries Scotland, John Clarke has several minor events and BSF Instructors courses in Kent, our Liverpool, Manchester, London, Newcastle and Bournemouth are still very active so the future looks good for British Sambo.