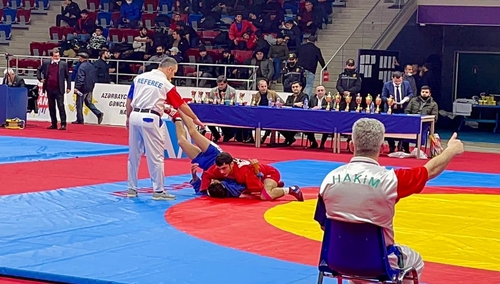 The competition was held in the city of Baku, in the "Baku Palace of Sports". Championship and Championship were held in special conditions, according to the requirements of a special quarantine (COVID-19) introduced in the country. With a limited number of participants, without the participation of fans in the hall. All precautions were taken: social distance, masks, disinfectants, checks (COVID-19) passports and certificates, the temperature of all the participants.
The total number of participants was 456 athletes. From them 240 juniors (2004-2006) in 8 weight categories, 91 boys (2002-2003) in 7 weight categories and 125 men in 7 weight categories.
Honored guests Nijat Hasanov (director of sector of Ministry of Youth and Sport of Azerbaijan), Ragif Abbasov (head of Main Board of Youth and Sport of Baku), Farid Mansurov (wrestler of classical style, master of sport, champion of Summer Olympic games in 2004, pro-rector of Azerbaijan State Academy of Physical Culture and Sport), vice president of Federation Javid Sabzaliyev, president of Federation Jeyhun Mammadov participated at the ceremony. After the National Anthem the president of Federation Jeyhun Mammadov made a speech. In his speech he mentioned successes and failures of the past year. He congratulated all sambo family with permanent recognition of International Olympic Committee. At the end of his speech he congratulated all the participants on this memorable day and wished them good luck.
The competition was the selection stage for the National Sambo team.
The closing and awarding ceremony was also attended by guests Ragif Abbasov (Head of the Main department of Youth and Sport of Baku), Namik Abdullayev (freestyle wrestler, Honored Master of Sport, Champion of Summer Olympic Games 2000) and head coach of Azerbaijan State Olympic Committee. head coach in freestyle wrestling), Vugar Alekperov (amateur boxer, bronze medalist of Summer Olympic Games 2000), Galib Gumbatov (two-time European Sambo champion), Elchin Mailov (World Sambo champion), Amil Gasimov (European Sambo champion, silver medalist of European Games 2015, champion and medalist of World Sambo Championships, winner of Sambo World Cup), Elchin Jafarov (Honored Worker of Physical Culture and Sports), Vice President of the Federation Javid Sabzaliyev and President of the Federation Jeyhun Mammadov.
After the awarding ceremony the guests of honor wished all prize winners of the Championship and Championship good luck with their participation in the International competitions.
Results of Republic Championship juniors (2004-2006)
53 kg
Farid Zarbaliev
Rashad Akhmedov
Mammadzade Gusein
Mammadov Elvin
58 kg
Aliyev Murad
Javidan Abbasov
Rasul Guseinzadeh
Jalil Novruzov
64 kg
Musakhan Gulmamedov
Yusifly Eltaj
Isayev Ibragim
Guseinov Muhammedali
71 kg
Babazadeh Kerem
Goyushov Pyunkhan
Aliyev Khudabakhish
Najafov Nurlan
79 kg
Ibragimov Togrul
Faraj Gozalov
Mammadzadeh Kismat
Zeinally Sadig
88 kg
Zamanov Ismail
Mustafazade Murad
Ravan Kazimov
Ahmedov Mirjalal
98 kg
Iskenderli Nihad
Safarov Safar
Mammadov Muhammad
Mirashraf Mammadov
+98 kg
Majidli Orhan
Ilkin Bakhshaliyev
Safa Kuliyev
Musaev Ramal
Boys (2002-2003)
53 kg
Rustamli Ravan
Salayev Rashad
Babayev Sahib
Guseinov Shamo
64 kg
Yelvin Bagirov
Kanan Ismailov
Ayaz Agayev
Ilkin Mammadov
71 kg
Huseynov Ahmed
Ruslan Khalilov
Asadov Elshan
Nadirov Movlan
79 kg
Adilzade Adil
Khankishiev Etibar
Mamedzade Joshgun
Bashirov Murad
88 kg
Aliyev Muhammadali
Kamal Nagiyev
Karimov Shamistan
Shamil Mirzaev
98 kg
Ruslan Safikhanov
Aidamirov Rasul
Bakhtiyar Mammadov
Heibat Kuliev
+98 kg
Mammadzade Muhammad
Najaf Kuliyev
Vahid Shakhguseinov
Ismailzade Ismail
Men
58 kg
Khalilov Mehman
Kanan Babayev
Nasimi Umbayev
Elmin Huseynov
64 kg
Seyidaliev Mirfattah
Allahverdiyev Tural
Bakhshiev Eyvaz
Bayramov Vilayat
71 kg
Hasanov Emil
Kamran Kasymov
Salakhov Elgiz
Jafarzade Rashad
79 kg
Bayramov Vugar
Latifzade Shokhrat
Abdullayev Abdulla
Agdjaev Vugar
88 kg
Huseynov Jeyhun
Askerov Bakhadyr
Ruslan Najafli
Khayal Guseinov
98 kg
Nasibli Yevaz
Natick Bashirov
Sanan Akhmedov
Orhan Safaraliyev
+98 kg
Gahramanov Shahin
Salmanov Togrul
Atakov Burkhan
Mammadly Kurban