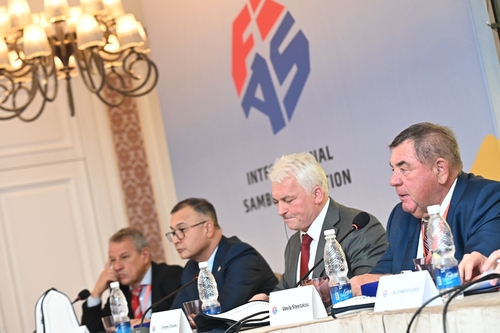 Regular XXXIV Congress of the International Sambo Federation was held in the capital of Kyrgyzstan — Bishkek. Delegates gathered in the conference hall of Orion Hotel to discuss topical issues of the world sambo development. Those who could not attend, took part in the meeting online.
The opening of the Congress was announced by FIAS President Vasily Shestakov, and the event was moderated by Alexander Korsik, member of the Executive Committee.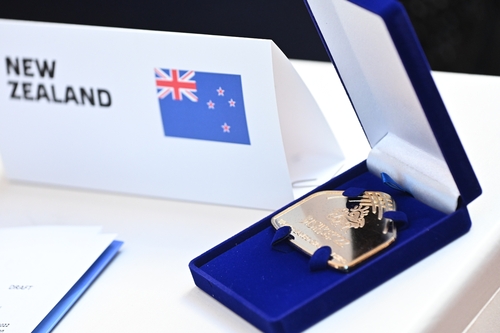 Suresh Gopi, Chairman of the FIAS Legal Commission, made a report on the membership of the organization. The delegates voted for the inclusion in the International Sambo Federation of New Zealand, for granting candidate status to the National Federation of Bolivia.
Then FIAS President Vasily Shestakov took the floor. Informing those present about the international tournaments held, the FIAS leader mentioned the World Championship held in Tashkent (Uzbekistan) in 2021. "I would like to thank the national federation of Uzbekistan for the success of this sports forum", — said Shestakov.
Despite certain difficulties with the organization of events in 2022 all continental championships and a number of international FIAS tournaments were held. Asian Championship and Youth Sambo Championship were held June 2-4 in Junia (Lebanon), African Championship — July 16-18 in Yaounde (Cameroon), Pan-American Championship — September 9-11 in Alajuela (Costa Rica), European Championship — September 15-18 in Novi Sad (Serbia).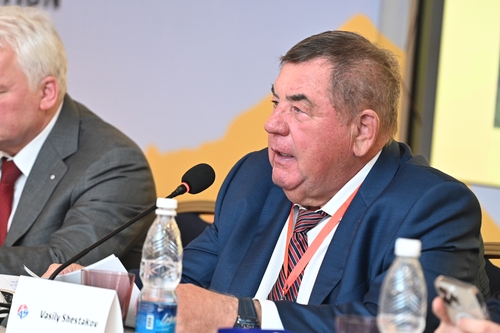 Then the FIAS head spoke about the World Youth Championship held in Yerevan (Armenia) from October 14 to 16. "For the first time in FIAS history at the World Youth Sambo Championship we added combat sambo duels among juniors, which became a real highlight of the tournament," Shestakov said. — I would like to thank Sambo Federation of Armenia for the brilliant organization of such a large tournament and personally its President Mikayel Hayrapetyan. This year the national sambo federation of Armenia made a serious request to hold regularly high level tournaments in its territory".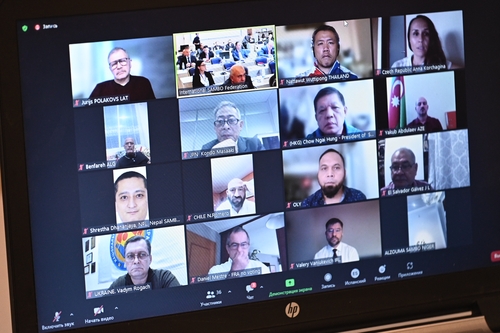 Referring to the World Beach Sambo Championship held on August 27-28 in Bat Yam (Israel), FIAS leader noted that the tournament was a real sport holiday for Bat Yam residents and sambo fans all over the world, who watched the bouts live on TV. "I would like to express my gratitude to the Sambo Federation of Israel, which ensured the organization of the tournament at a high organizational level", — concluded the FIAS leader.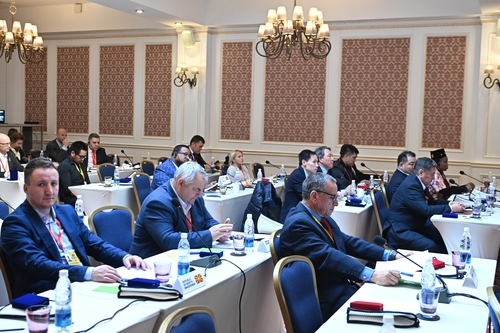 Then Vasily Shestakov focused separately on the FIAS Qualification System, drawing the attention of the presidents of national and continental federations to its more active implementation in the field.
The FIAS leader also informed the delegates about the completion in September of this year of the long-awaited construction of the International Sambo Center, which will become a home for sambo wrestlers around the world.
In the final part the participants heard the report of FIAS Commissions and discussed other topical issues facing the International Sambo Federation.